New IPC Formats and Processes
New IPC Formats and Processes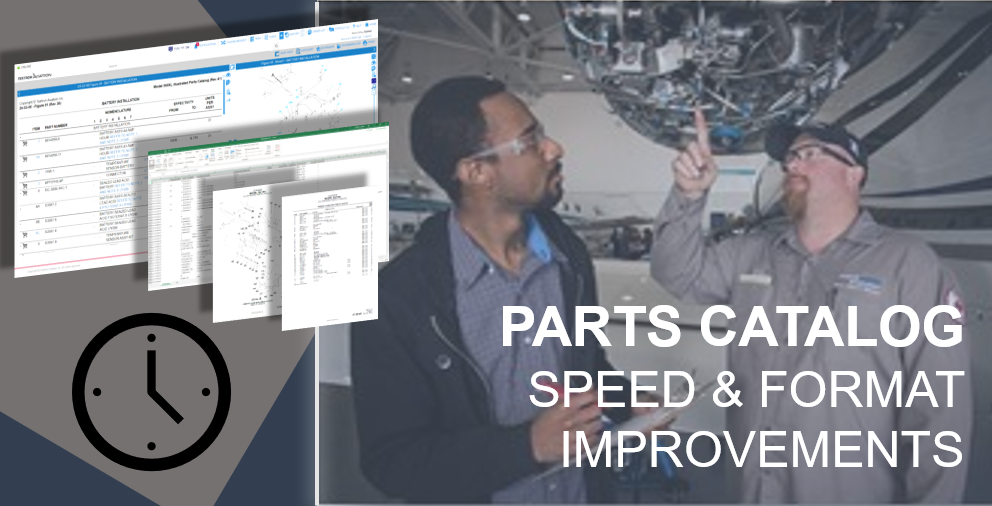 Beginning in early March, Textron Aviation will begin reissuing it's Illustrated Parts Catalogs (IPCs) to introduce several enhancements that users will notice immediately. Many of the changes are targeted at making the IPCs more consistent, more useable, and more timely. Please refer to the IPC/WDM User Guide for more detailed description of the changes.
More Consistent
Revised material will be identified the same way it is identified in Maintenance Documents (blue shading in 1View and revision bars in paper and mobile products).
A parts lists exported in a comma separated values (CSV) format will be available for download with each revision, compatible with several common spreadsheet programs (such as Microsoft Excel). This feature will be added to all Cessna products to more closely match existing products on the Hawker and Beechcraft IPCs.
Part substitutions will be standardized across Cessna, Hawker, and Beechcraft products.
More Useable
Part substitutions will be more descriptive and meaningful. "FSO" will become "For Spares Order (Mandatory Replacement). "ALT" will become "Alternate for (Interchangeable with)."
A new clarifying type of 1-way part substitution will be introduced. "Alternate for (Permissible to also use)" will be added when a replacement part is optional. Existing stock of the original can still be used.
Footnotes will be moved in-line with the part nomenclature, reducing nuisance scrolling.
Serial ranges will be added to every part, increasing exactness in every instance.
More Timely
Increased revision frequency. Decreased intervals between revisions.
Smaller, more concise revisions.
Quicker publication change request (PCR) turnaround.
New Textron Aviation approved part substitutes released in the IPC sooner.
Initially, the Cessna product lines will be the first to receive these upgrades. These will be released beginning in Q1 and will continue throughout 2020. Later, the Beechcraft and Hawker product lines will begin receiving the updates with first revisions estimated sometime in Q3 2020. To denote the first reissue of a manual through this process, the revision numbering will restart as an alphanumeric character. For example, a Cessna IPC that is currently numerical only ("revision 12") will have an "A0" reissue number. Then "A1" then "A2", etc. A Beechcraft IPC that is currently at an "E12" revision level, will become "F0." Please continue to subscribe to Textron Aviation Technical Publications and watch for these updates that will make your IPC more consistent, more usable, and more timely.